Snail-mail:                                          PO Box 27, Hartford, NY  12838
Call Center / Training Facility:      Hartford, NY
Support number:                               518-407-3883
Main Office number:                        518-595-3883
Email:                                                  support@evtf.org      and      sales@evtf.org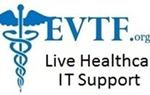 Billie Jo White
EVTF
---
~Support@EVTF.org
~518-407-3883
~85 Crestwood Terrace, Albany, NY 12203
EVTF, LLC      A WOSB in upstate NY .
Serving the immediate IT needs of Clinicians across the U.S.
---
www.evtf.org
ACA – Affordable Care Act response (D.R.  DR  Disaster Recovery   Business Continuity  IT  I.T.  )
Support -Healthcare – I.T. – Clinicians – Helpdesk – Technology –
-EMR-healthcare-support-technology
help /  training – for healthcare organizations
EVTF, LLC     A WOSB providing affordable healthcare IT support when the clinicians need it.  NOW!