Winter 2015-2016:    EVTF will contribute to the intellectual "stimulus" by sharing several insightful brief writings from within the Healthcare community.  As witnessed through the eyes of a solutions oriented IT Professional who was called upon to help EVERY imaginable department….even those who took a little more time to appreciate it.  Please read with caution, a sense of humor, and feel free to send us your feedback.
An interesting story about where costs come from and our pledge to help reduce them.
Fall of 2015:   EVTF Operations Director becomes and official member of the American Red Cross.   Volunteering time, resources/assets, and experience to the communities we live in as well as travel to.
June 2015:       EVTF embarks on a national journey to help more healthcare facilities and the families within their regions by  joining the Red Cross.  With the preliminary validation steps, background checks, online course work and testing completed, we're now ready for the next step.  One of our biggest challenges has been in getting the word out (raising awareness) of our philanthropic practices.  We've enjoyed a few limited engagements with various hospitals across the U.S.; but we can't help but feel that we can do so much more.  We're looking forward to teaming up with the American Red Cross in the months to come and being part of such a noble and worthwhile cause.
May 2015:       EVTF donates to the Bernard & Millie Duker Children's Hospital at Albany Medical Center.  A tele-thon held by 810-WGY's Chuck & Kelly crew was airing during our drive to a conference in Albany and we were so moved by the stories being shared that we just had to do our part.  Knowing that funding for much needed supplies and comforts is limited, we didn't think twice about giving.  Knowing that it would help make a difference for the families that are going through some tough times, is what I call real ROI.
Jun-Nov. 2014:     EVTF donates time and solutions to hospitals across the U.S. through limited engagements and on-going systems support.  Whether it is a one hour meeting to brain-storm or investigate needs within an underserved organization, providing a complimentary systems assessment and risk mitigation, or providing emergency support coverage during/after a disaster, EVTF is there for you.
We exist to help our extended family of healthcare providers with their technology needs.  It's no secret that we'd like to have your business; but it's just as important to us that we've made a difference, gained a friend, and have your trust and interest when you're ready to engage a partner who truly understands Healthcare I.T. from the inside.
Nov. 2013:      EVTF donates refreshments and live Christmas trees to a Hartford Town fund raiser to help needy families during the holidays.  Each year, EVTF donates at least one live Christmas tree to place in the silent auction.  The winning bidder not only receives any LIVE tree of their choosing from our Christmas Tree Farm in Hartford, NY; but is also invited to partake in a day of outdoor activities, refreshments, and a free entry in the EVTF – Make a Wish basket, where one family will be the recipient of an "anonymous" gift package for the children in their home.
Sep. 2013:      EVTF donates funding, resources, and labor to the Mollie Wilmont – Radiation Oncology Center's "Run For The ROC" event held at the historic race track in Saratoga Springs, NY.   This is the 6th year in a row that EVTF members have volunteered to support this worthy event.
May. 2013:      EVTF donates labor, tools, and materials to the HCSD Youth Commission "Post-Flood" Soccer & Baseball Field restoration project.  Not only did the dug-outs need to be rebuilt/replaced; but the stream that circumnavigates the entire Youth Commission field was dammed up from debris and at risk to over-run it's banks during the next storm if not remedied.  A very small crew of committed fathers and their teenage sons, spent the majority of an entire weekend, cutting, pulling, lifting, hauling, and clearing no less than 4 town trucks worth of entangled debris from the 1/4 mile stretch of stream bed.  The water can still be seen free-flowing and clear to this very day.  Again, were it not for the massive donations of heavier equipment by Russell M. Wade and the Town of Hartford, this project would have never completed.  Hats off to everyone involved.
Aug. 2012:      EVTF donates funds and labor in the Hartford CSD – 5 acre Sports-Field creation and helps to turn unsuitable/abandoned land sold to the school district, into a place where local children and families can practice, play sports, and rally behind their little athletes.  This project was coordinated by the Town Supervisor (Dana Haff), Russel M. Wade Construction, and Ron Smith Construction.  Heavy equipment donated by both construction companies, with fuel and supplies provided by others in our community.
1990-2014:     EVTF Operations Director donates thousands to non-profit organizations like the Saratoga Hospital Foundation, The United Way, the Angel Fund, The Run for the ROC, The Food Pantry, and Habitat for Humanity.
A little transparency on EVTF's financial statement –  To date, EVTF does not invoice for every service it provides.  We pride ourselves on helping others first and later worrying about payment for any of the services/support we have provided over thousands of hours and even more miles.  However, through fiscally responsible management, investments in our own infrastructure, and good old-fashioned American work ethic, we are able to provide these helpful services to countless healthcare organizations across the U.S. and believe that in doing so, we are opening new doors and opportunities.
If you like what you've seen here and want to know more about us and the services we offer, write or give us a call.  Perhaps you know someone who might need a little help right now.
EVTF Raises the bar in Healthcare I.T. Support
---
With dwindling reimbursement rates compounded by increased supplier costs and employee compensation packages, it's more important than ever to align with a partner who does more than contribute to your bottom line.
EVTF services bring new meaning to ROI.  Whether you already have an off-hours support solution and could cut that cost in half with EVTF, or you've realized that it is time to raise your support level to meet today's demands, ROI means something different.
The Return On Initiative is seen in the improved patient care and clinician satisfaction with your I.T. services.  Increasing systems availability, access to records when seconds count, and answering support calls with knowledgeable technicians who actually resolve greater than 90% of the reported issues, is the next step in your support evolution.  Lets not forget the ability of your prime-hours support team to actually get some R&R instead of taking support calls over-night.  That's the kind of ROI that everyone can relate to.
EVTF, LLC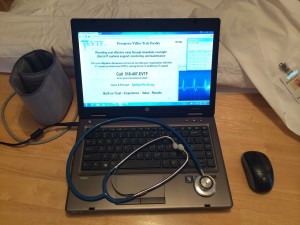 When seconds count, don't page the on-call I.T. staff member that is sleeping at this hour.  Call us.  We're awake, already connected to your system, familiar with your clinical applications, and anxious to help in any way we can.
---
www.evtf.org
ACA – Affordable Care Act response (D.R.  DR  Disaster Recovery   Business Continuity  IT  I.T.  )
Support -Healthcare – I.T. – Clinicians – Helpdesk – Technology –
-EMR-healthcare-support-technology
help /  training – for healthcare organizations