Providing medical professionals instant access to qualified technicians to solve the majority of IT issues typically encountered during off hours.   Proactively provide active systems monitoring and maintenance to prevent many common issues.
ONCC- Overnight Call Center-Live Healthcare IT support that answers the phone and works on your issue on the first call, with over 90% problem resolution.
ASMM- Active Systems Monitoring &Maintenance-Proactive monitoring of Hospital systems to avoid problems with clinical work flow.  This includes applications, interfaces, key SAN areas, VM environment and backups/IDR's.
DR_T_Val- Disaster Recovery Test and Validation service.  Testing and Validating your DR plan is mandatory.  Just like everything else, when do you find the time?  We have decades of experience in successful DR testing, documentation, and Security Audit Reporting.  Partnering with us to perform your testing will guarantee that it is added to your "Done List" and improve your B.C/D.R. Risk Assessment Maturity Scores.
AMCC- Affordable Mobile Command Center-Guaranteed SLA's to deliver robust mobile offices that provide appropriate on-site work space after a disaster and improve B.C/D.R. Risk Assessment Maturity Scores.
For more information please click the Products/Services tab above.
Or click here for a quick overview- By The Numbers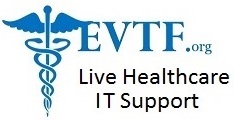 Knowledge in healthcare applications, quality measures, interoperability, CPOE, clinician communication tools, Meaningful Use, as well as desktop & network infrastructure.
We partner with your organization's existing support structure and vendors to maximize utilization of your technology solutions.
---
Feel free to reach out to us for a no-obligation discussion on how our expertise and unbeatable pricing structure, can help your organization meet today's healthcare demands.